About Downing Place United Reformed Church
Our main Sunday service is held each Sunday morning at 11am.  Holy Communion is celebrated on the first Sunday of each month; and on other special occasions in the Church's calendar.
Services are being live-streamed at present via our Youtube channel.
Worship on Sunday 23 January will begin at 10.30am to allow time for the Church Meeting afterwards.
To the right, you will find a link to the live-streamed service which took place on Sunday 16 January at 11am; which you are welcome to watch at any time; and also a link to the livestreamed for the service which will take place on Sunday 23 January, which will become live about 5 minutes before worship is due to start.
Everyone is welcome to worship with us on Sunday morning, whether you are a regular church goer or have never attended a service of worship before; or anything in between!  If you are new to us, we have a special First Time in Church page to read which will explain a few things and help you feel at home.
We also hold regular Open Table services and social events, which are particularly inclusive of LGBT+ people but are open to all who are allies.  There is a Social Evening on the first Sunday of each month at 7pm; and a service of Holy Communion on the third Sunday of each month at 7.30pm.
You can find out about the other ways we are worshipping together via our Worship page.
A recording of the service from Downing Place on Sunday 16 January
Link to the livestream for Sunday 23 January, which will be live from around 10.25am.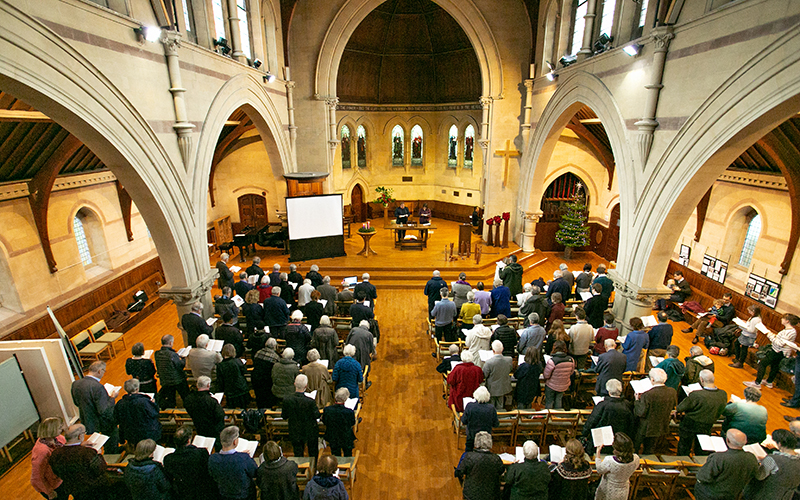 Jesus Christ calls us to reflect his love for us in our love for one another, and we strive to embody this in our care and pastoral ministry, 'bearing one another's burdens' (Galatians 6:2). We seek to make Downing Place a community of mutual support, bearing the burden of being human, and accepting its joy together. Members and friends are organised into pastoral groups of about 10-12 households, each with an elder and one or more pastoral visitors sharing responsibility for the group. Pastoral groups meet frequently for social events and discussion, and members who are housebound receive regular contact from their elder and/or pastoral visitor.
Young people are a vital part of the congregation. They join for the first part of the 11am Sunday service with a 'Sharing Together' slot, for everyone, during which the children contribute to the worship, before going with their leaders to their groups. Here, children will explore the Bible and develop their faith through craft, singing, games and discussions appropriate to each age group.
All-age morning services are held on a regular basis, during which the children stay with the rest of the congregation and actively participate in the worship.
New families and visitors are always welcome.
During the year, we organise 'Invitation Sundays' with exciting activities for all children and their invited friends. These Sundays give children, their parents or carers, and the leaders the chance to get to know each other better as they share breakfast, play games, and hear Bible-related stories.
Children's Ministry is led by experienced volunteers who have full DBS checks. Our safeguarding policy can be viewed here.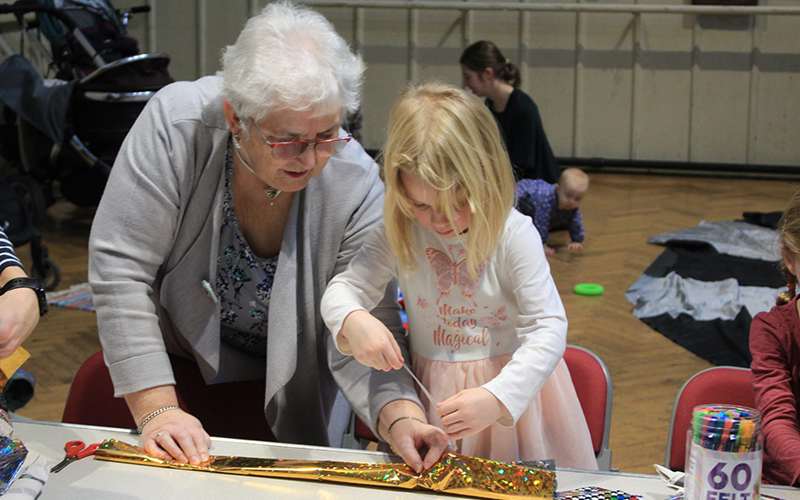 More information about our Children's Ministry
As well as being the Church of Scotland chaplaincy in Cambridge, we are very pleased to welcome students to Downing Place from any background or tradition. A social group for young adults, 'The Gathering', meets regularly for games nights,  meals, films and discussion. A regular Bible study group for younger members of both Downing Place and Open Table Cambridge meets weekly.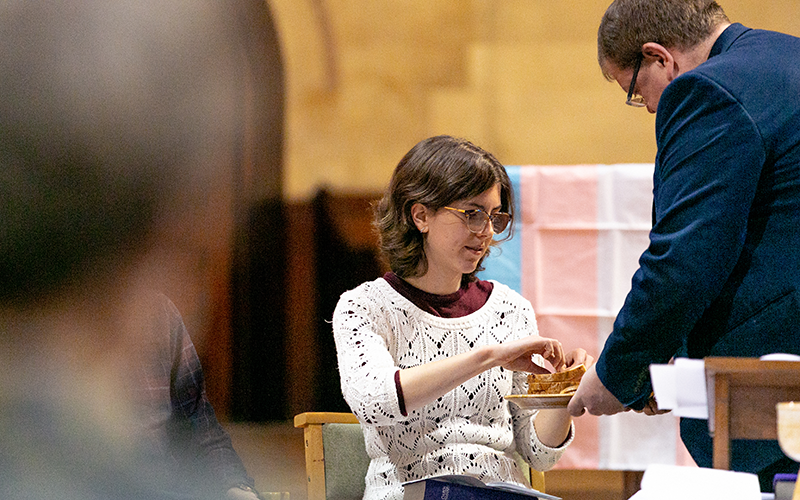 Ministry amongst LBGTQ+ people
Downing Place is an officially registered Inclusive Church, welcoming to all. We have received accreditation from the Encompass Network as a LGBTQ+ friendly community through their Safer Spaces scheme. Our newly refurbished building is registered for the marriage of same sex couples; and we are also delighted to offer blessings for civil partnerships.
On the first Sunday of every month we hold an Open Table social evening starting at 7pm, and on the third Sunday of each month we hold a special Open Table communion service at 7.30pm with a specific focus on LGBTQ+ folk and their allies.
Read more about our LGBTQ+ events and outreach on our LGBTQ+ page.
Please contact Alison Binney, the organiser, if you have any questions or would like to get in touch.