Our Vision for City and Community
In the heart of the city of Cambridge, surrounded by luxury shops, banks, bars, traffic and busy shoppers, we try to be a community. It is our firm belief that what binds us together most fully is not business, shopping or economic activity, but the infinite depths of God's love. Whether you have little faith, or no faith, or are a lifelong churchgoer, you will be most welcome to join our friendly community. We are a gathered church, drawing people from all over Cambridge and its surrounding villages, and seeking to witness to God's love in the city centre.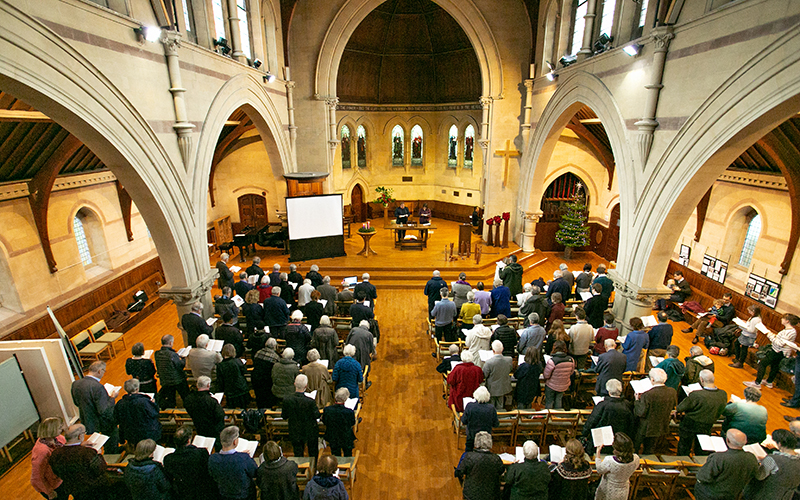 'There is no life that is not in community'
(T.S. Eliot, Choruses from the Rock)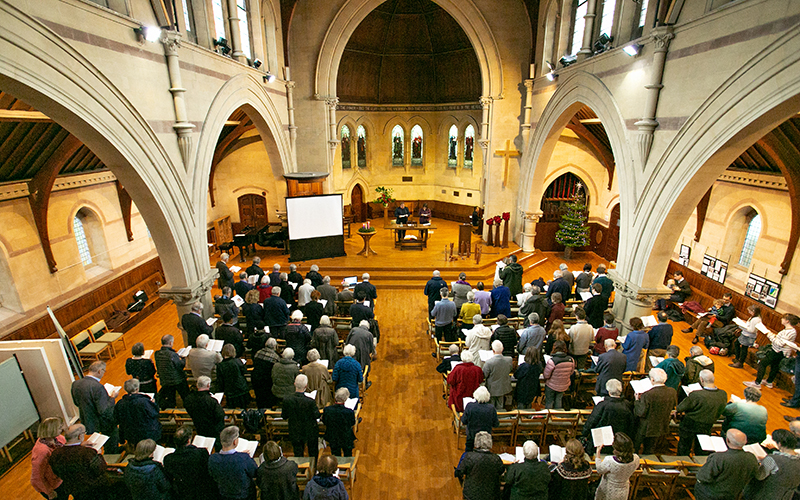 We seek to provide a haven for prayer and meditation in the bustle of central Cambridge. Through stillness and meditative prayer, word and sacrament, we respond to God's call, and are refreshed in the depths of his infinite love. Our spirituality is at the heart of all that we do, an expression of God's transforming Spirit in our everyday lives. Preaching at Downing Place, Susan Durber writes that 'we do not come to church to be in some special sense 'spiritual', but to learn how to be alive. We come to receive the gift of life – so that we can bear the burden of being human and accept its joy.'
Giving
Over the last year Downing Place URC has given a total of £30k spread amongst the following charities
ADD (Action for Disability and Development)
Albert Kennedy Trust
Bible Society
Cam Sight
Cambridge Foodbank
Cambridge Street Aid
Cambridge Street Pastors
Cambridge Women's Aid
CamCRAG (Cambridge Convoy Refugee Action Group)
CAP (Church Action on Poverty)
CCHP (Cambridge Churches Homelessness Project)
Centre 33
Christian Aid
Christians Against Poverty
Church Action on Poverty
Cogwheel Trust
Cyclone Idai Appeal
Cystinosis Foundation
Eddie's
Feed the Minds
Fulbourn Youth Centre
Home Start Cambridgeshire
Jiroff (Ghana)
Kite Trust
MAP (Medical Aid for Palestine)
Mediterranean Hope
Odumase Krobo (Ghana)
Rebuilding churches in Sri Lanka
Red Balloon
Romsey Mill
SOS Children's Villages
URC Commitment for Life 1% Appeal
There have been times when LGBTQ people have experienced churches as places of exclusion or of criticism and restriction, rather than of welcome and transformative love. We believe that this does not reflect the radical message of Jesus, who welcomed all to himself. As we try to live lives transformed by Christ, we are committed to being a place of welcome to all. We are proud to host Open Table Cambridge, which provides a safe sacred space for LGBTQ+ Christians and their allies. Download the Open Table term card here.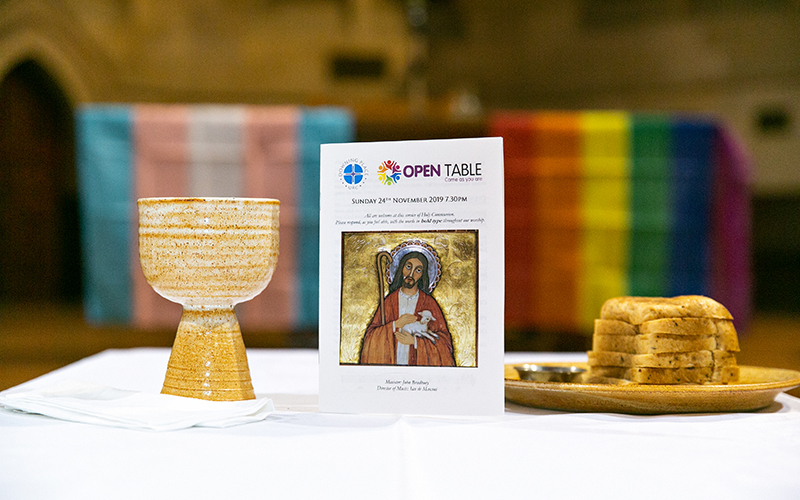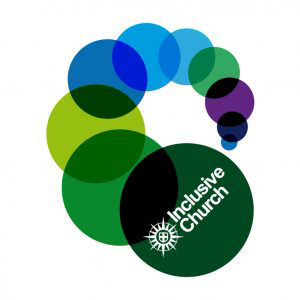 We believe in inclusive Church – church which does not discriminate, on any level, on grounds of age, economic power, gender, mental health, physical ability, race or sexuality. We believe in Church which welcomes and serves all people in the name of Jesus Christ; which is scripturally faithful; which seeks to proclaim the Gospel afresh for each generation; and which, in the power of the Holy Spirit, allows all people to grasp how wide and long and high and deep is the love of Jesus Christ.
Thinking about Christian Faith
Speaking Christian – Marcus Borg 2011
Restoring the meaning of Christian words
Being Human – John de Gruchy 2006
How can we follow Jesus today?
Tokens of Trust – Rowan Williams 2007
An introduction to Christian belief
The United Reformed Church
Under God's Good Hand – David Cornick 1998
A history of the URC
ordinary time – Francis Brienen and Michael Jagessar (ed 2013)
URC Prayer Handbook 2013
Stating the Gospel – David Thompson ed 1990
Formulations and Declarations of Faith from the heritage of the URC
Reforming Theology – David Peel 2002
The theological traditions of the URC
Shaping Up – Ernest Marvin 2005 (a former minister of St Columba's)
Re-forming Reformed Worship
Letting God be God – David Cornick 2008
Reformed Spirituality
Being Biblical – John Campbell 2003
Using the Bible in constructing ethics today
Rejoice and Sing 1991
United Reformed Church hymnal
Topical
Columba: Pilgrim and Penitent – Ian Bradley 1996
2013 sees the 1450th anniversary of St Columba's arrival in Scotland 1450 years
Sisters of Sinai – Janet Soskice 2009
The sisters from Cambridge who founded Westminster