Ministry amongst LBGTQ+ people
Downing Place is an officially registered Inclusive Church, welcoming to all. We have received accreditation from the Encompass Network as a LGBTQ+ friendly community through their Safer Spaces scheme. Our building is registered for the marriage of same sex couples; and we are also delighted to offer blessings for civil partnerships.
Around the first weekend of every month we have a social gathering, and on the third Sunday of every month we hold a special Open Table communion service at 7.30pm with a specific focus on welcoming LGBTQ+ folk and their allies. 
Please contact Alison Binney, the organiser, if you have any questions or would like to get in touch.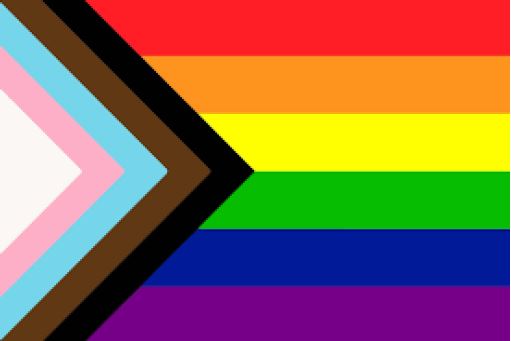 The Open Table Network (OTN) is a growing partnership of Christian worship communities which welcome and affirm people who are:
Lesbian, Gay, Bisexual, Trans, Queer or Questioning, Intersex, & Asexual (LGBTQIA) together with their families, friends & anyone who wants to belong in an accepting, loving community.
Downing Place URC is part of the Open Table network, which has been created by, and for, LGBTQIA+ people.  Our Open Table meetings give us a safe inclusive space where we find God and each other, and have the time and peace to grow together.
Churches don't always feel safe or welcoming to LGBTQIA+ people. But the name, 'Open Table' is an open invitation to come in, just as you are, and be with us, in a safe, affirming community.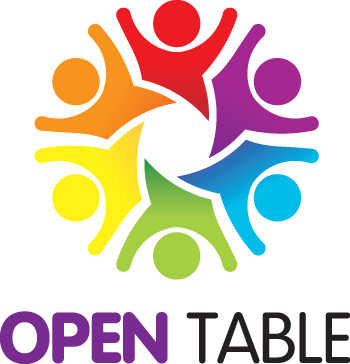 On the third Sunday of each month, we celebrate Holy Communion together as an Open Table community.   We gather from 7pm onwards for coffee and cakes, and the service begins at 7.30pm.
We proudly celebrated Cambridge Pride 2022; with decorations at Downing Place URC, with a stall on Jesus Green in the middle of all of the celebrations on 9th July, and with these images scrolling on the screens around our building, and those looking out onto Downing Street.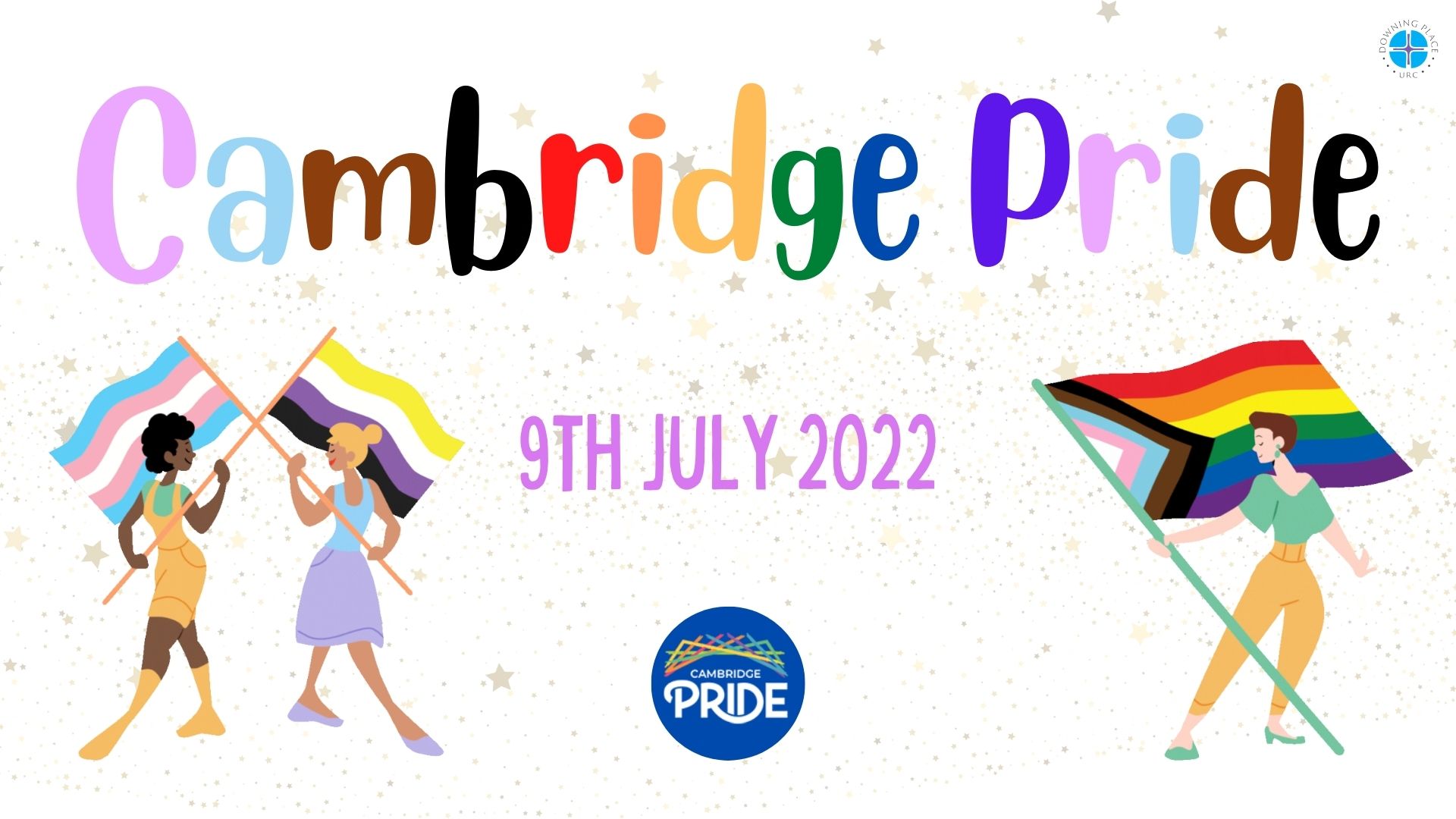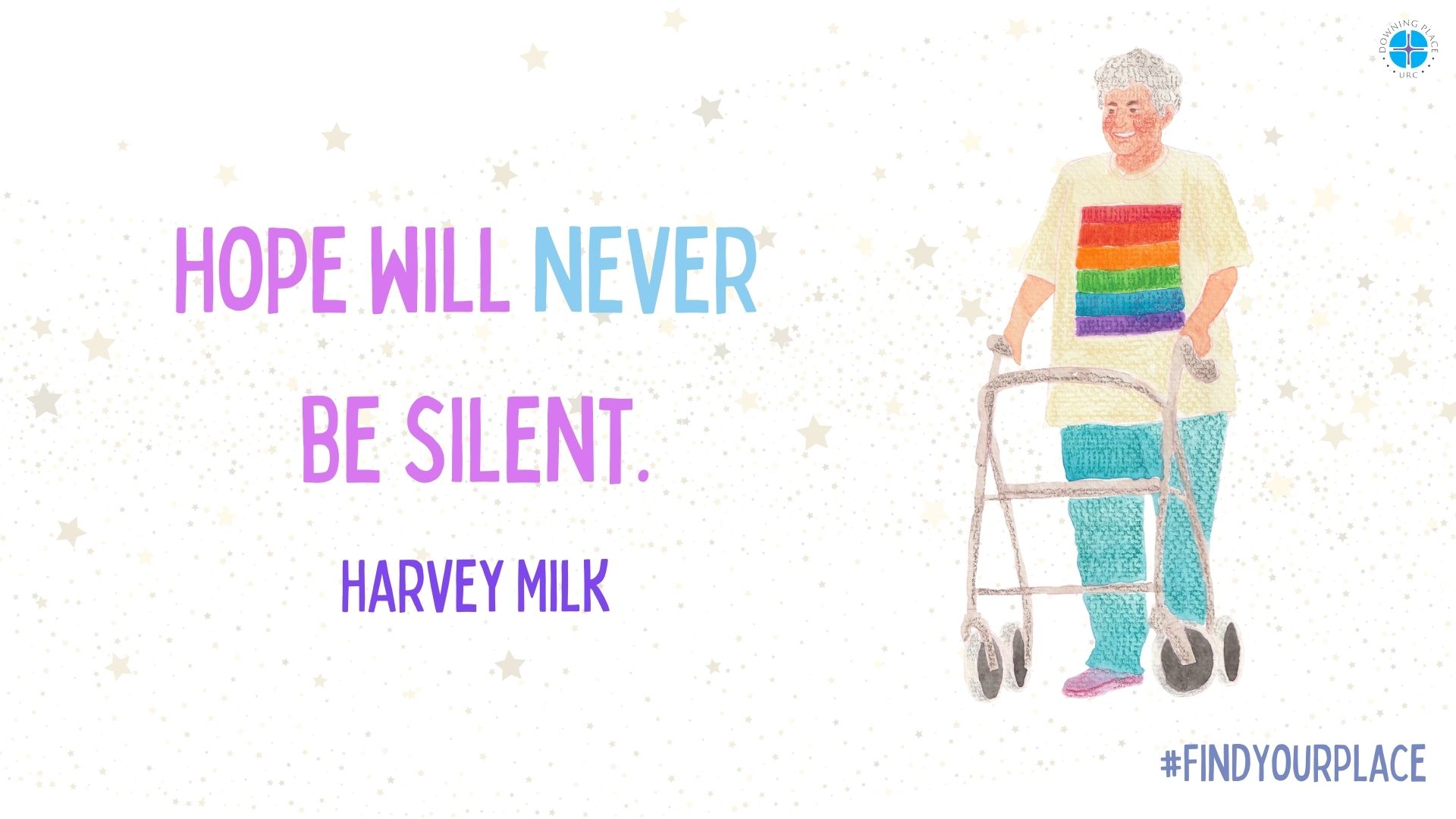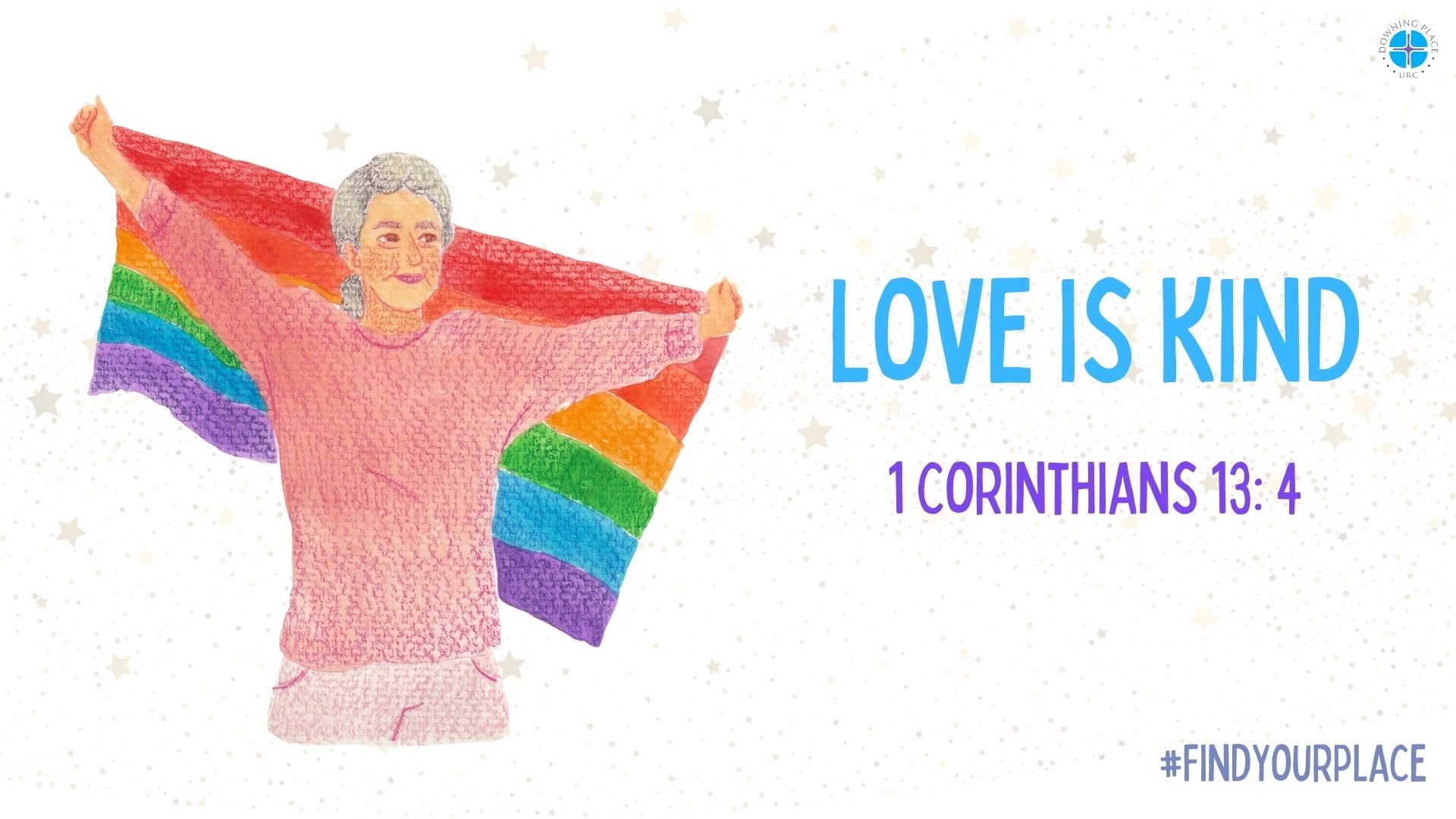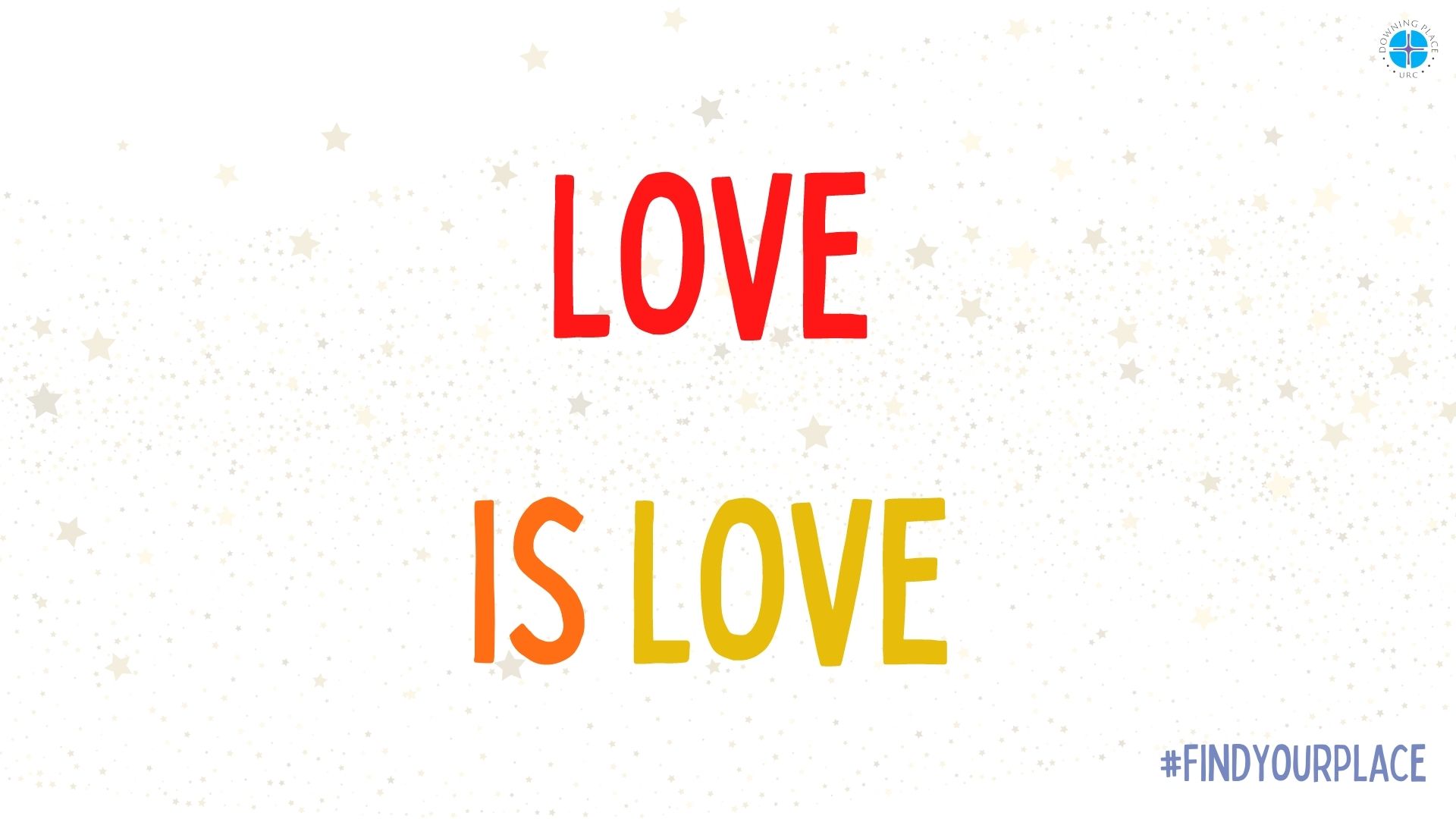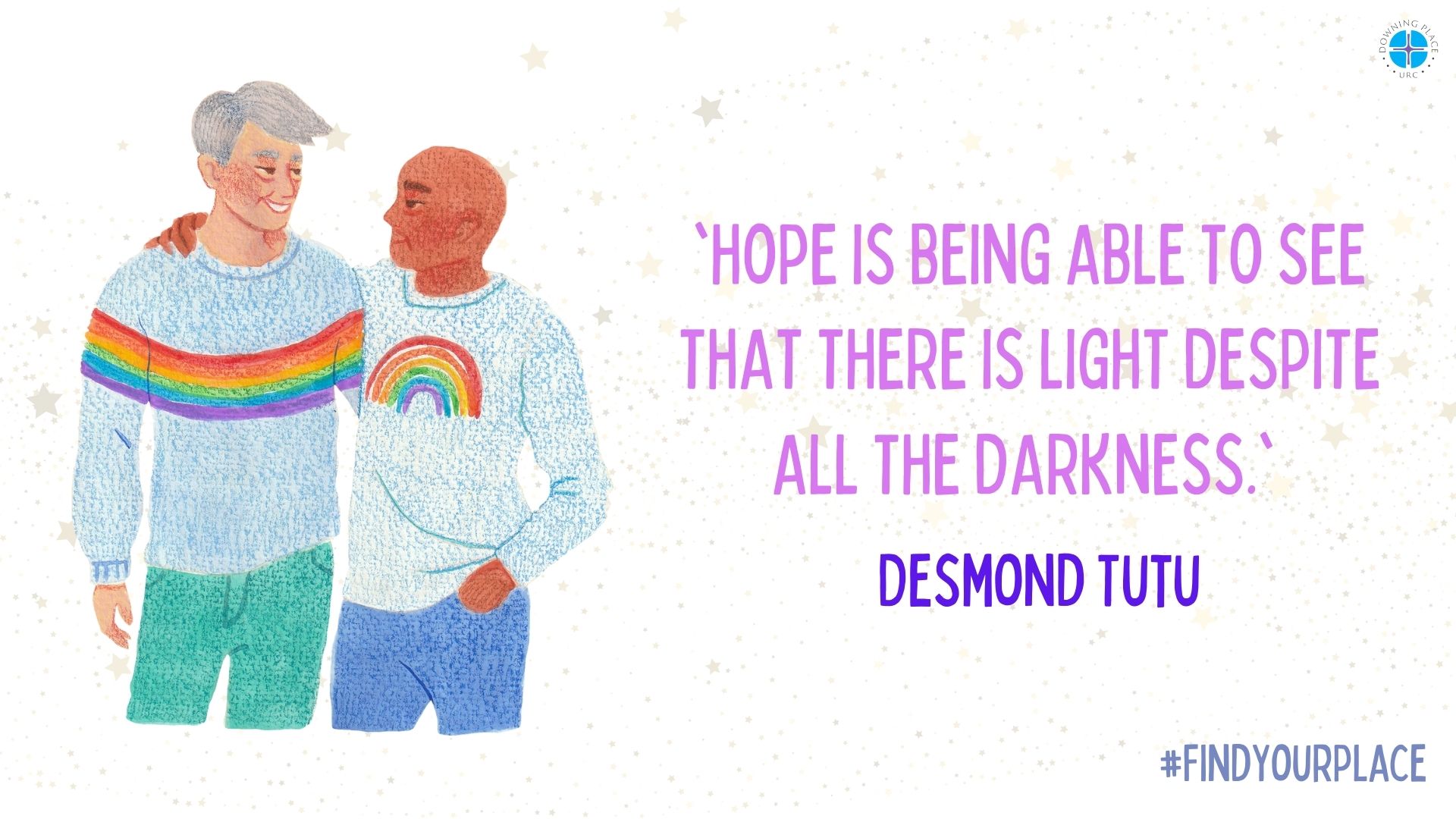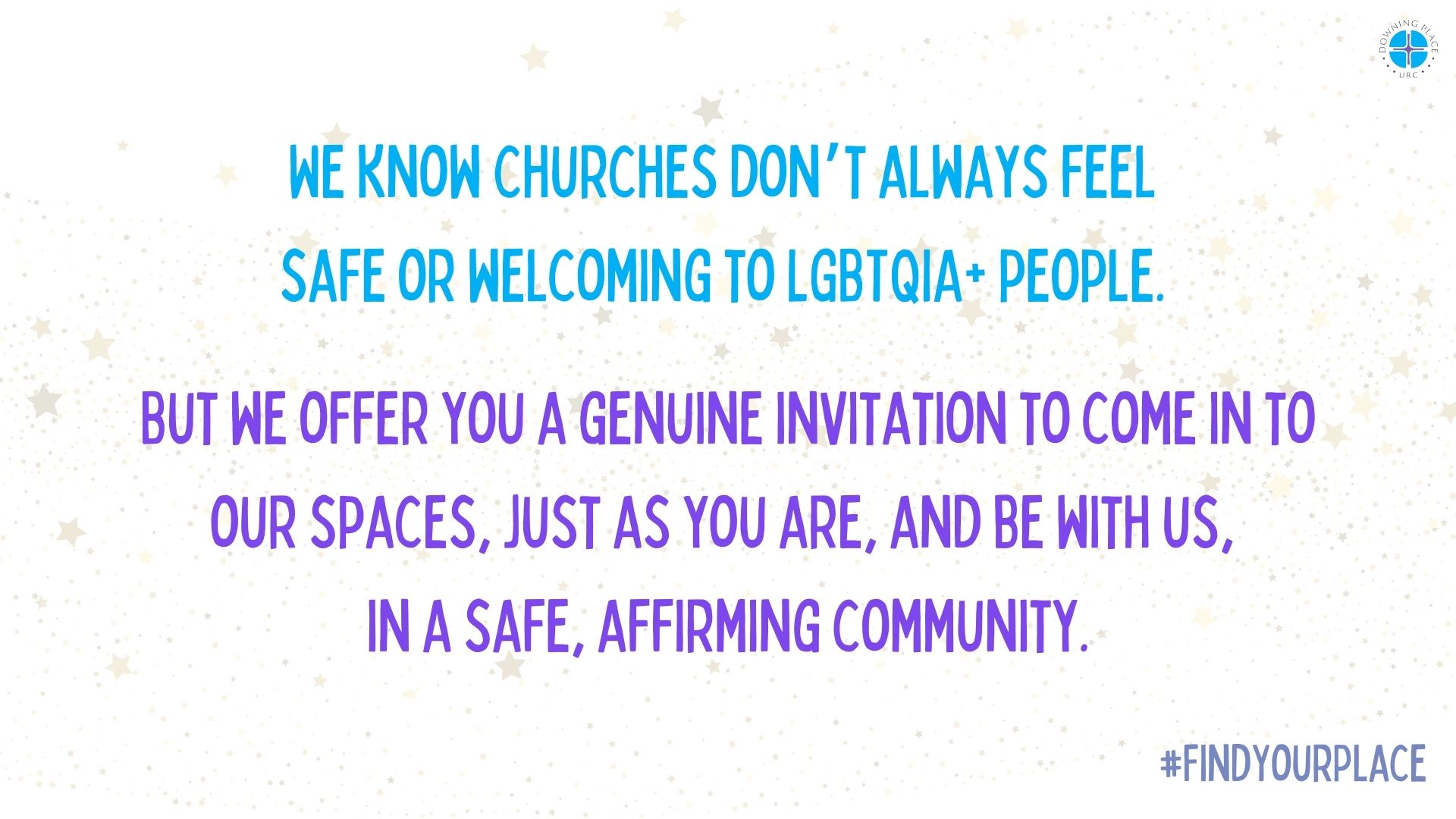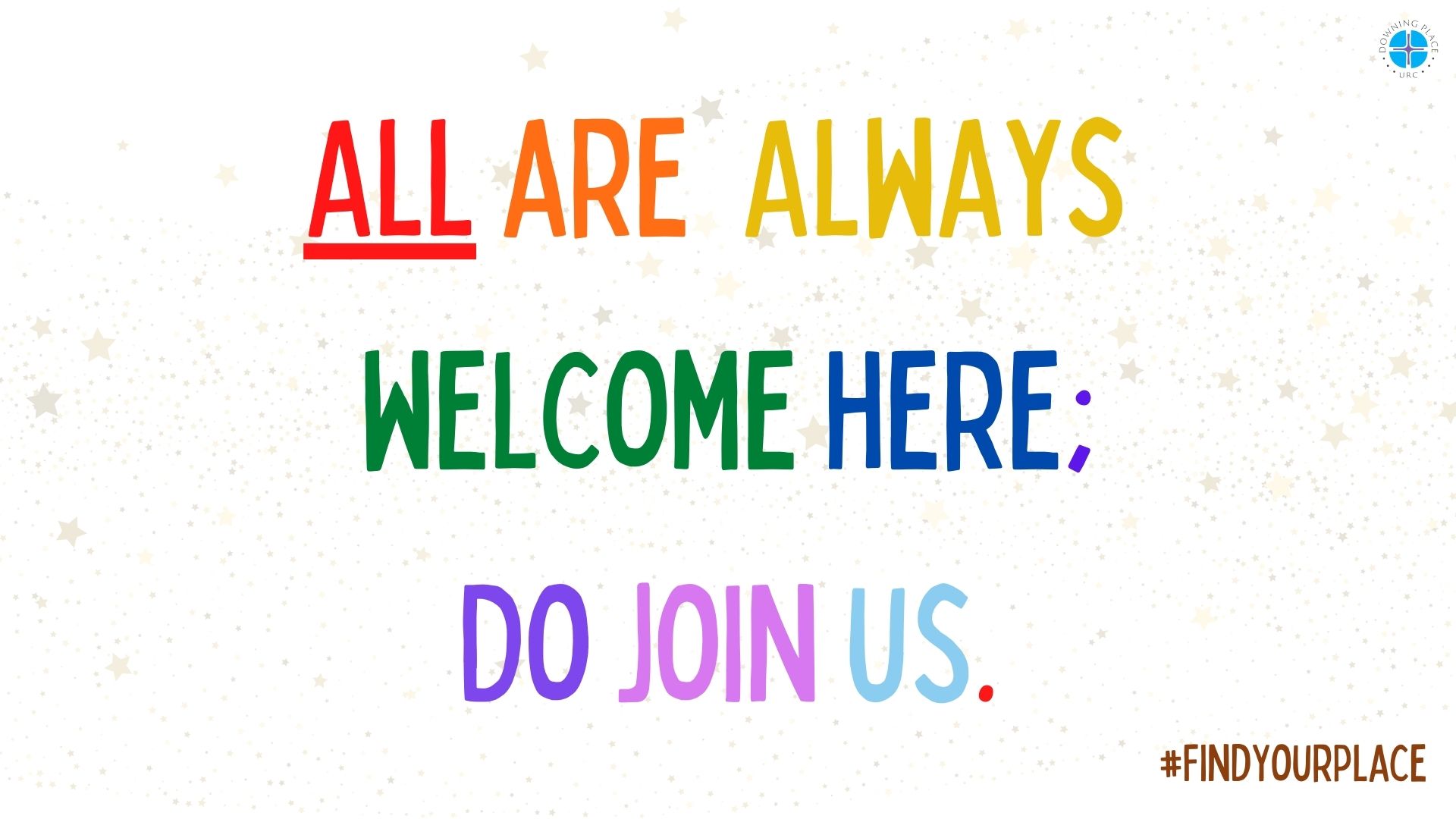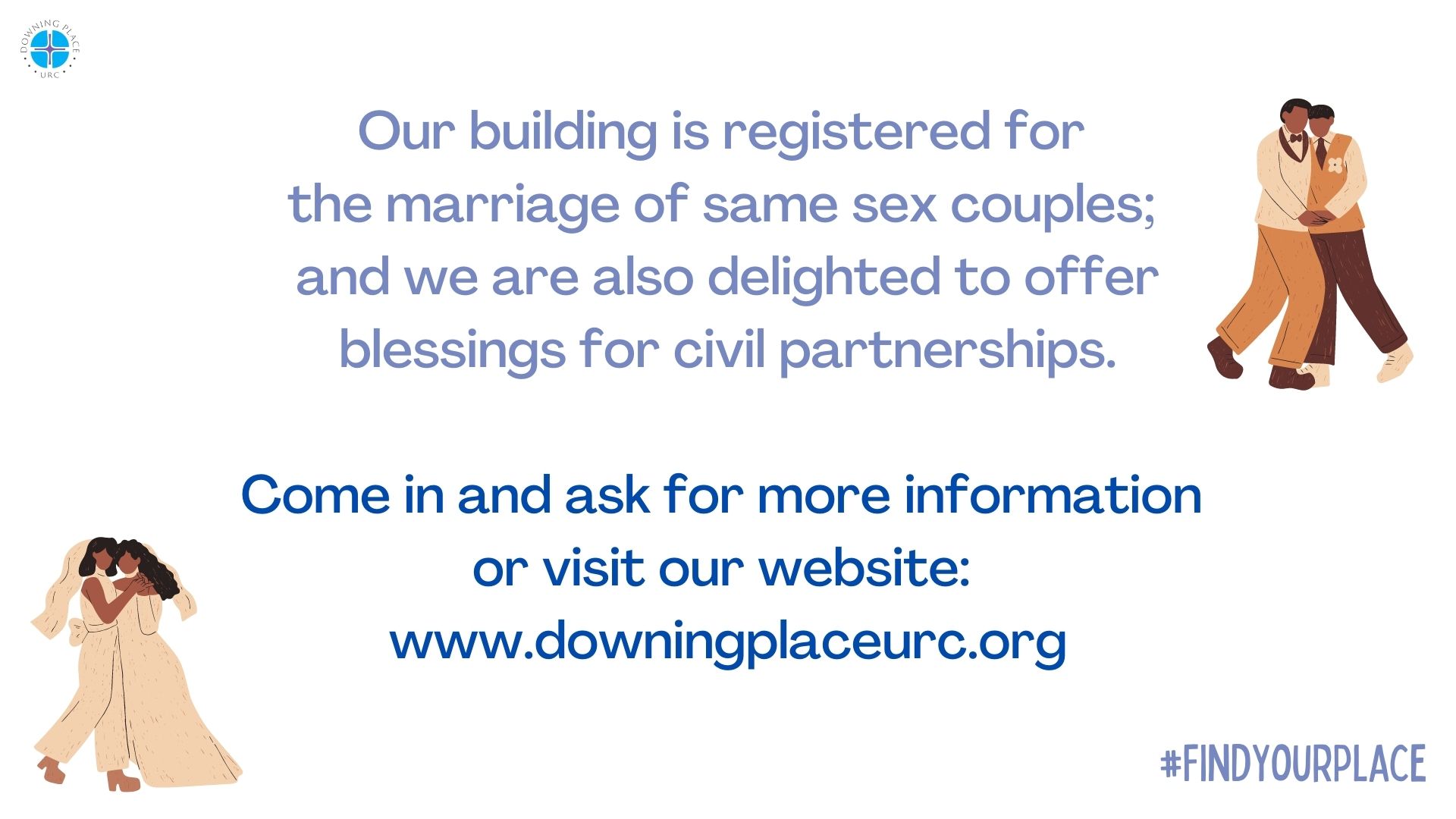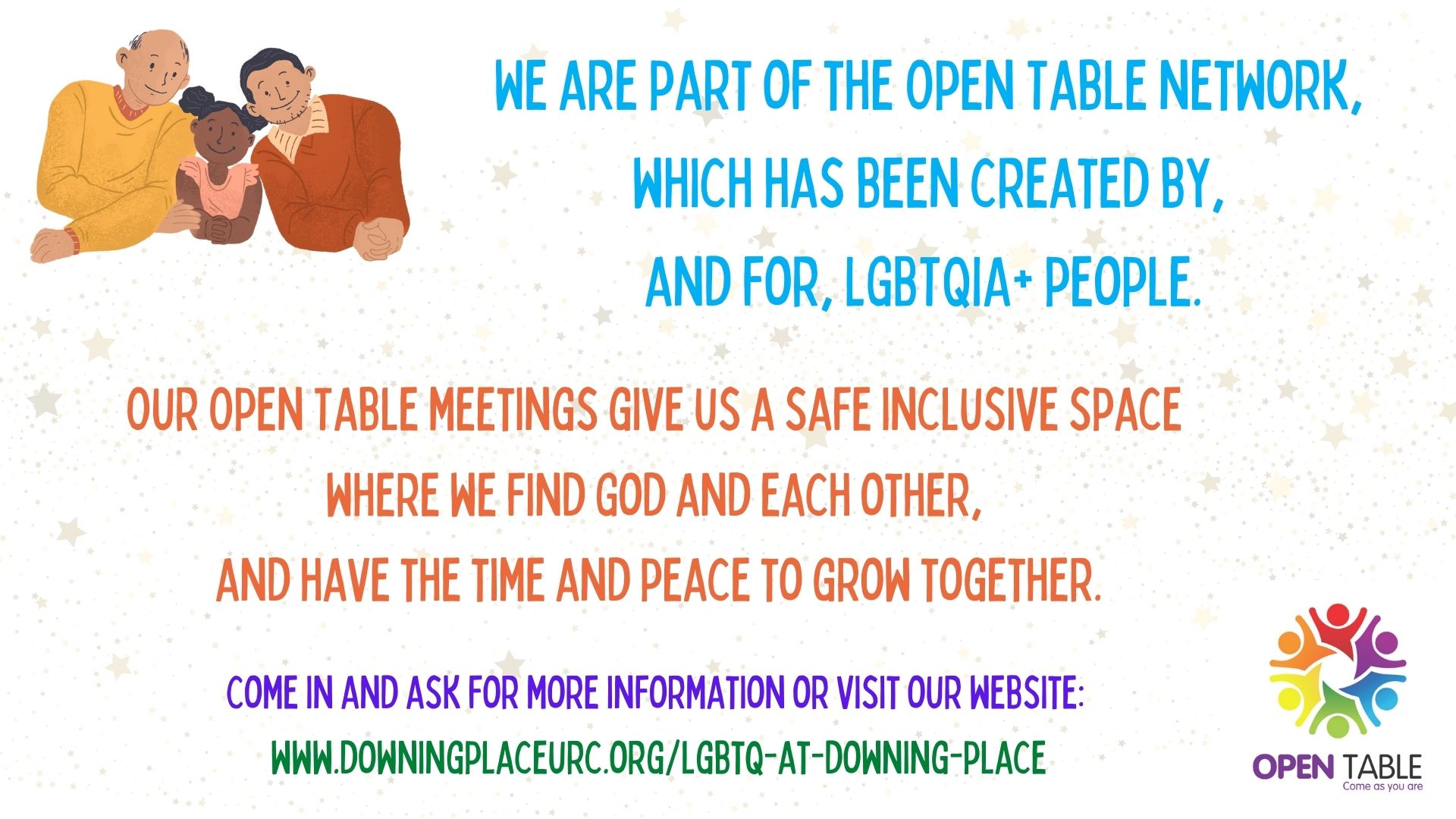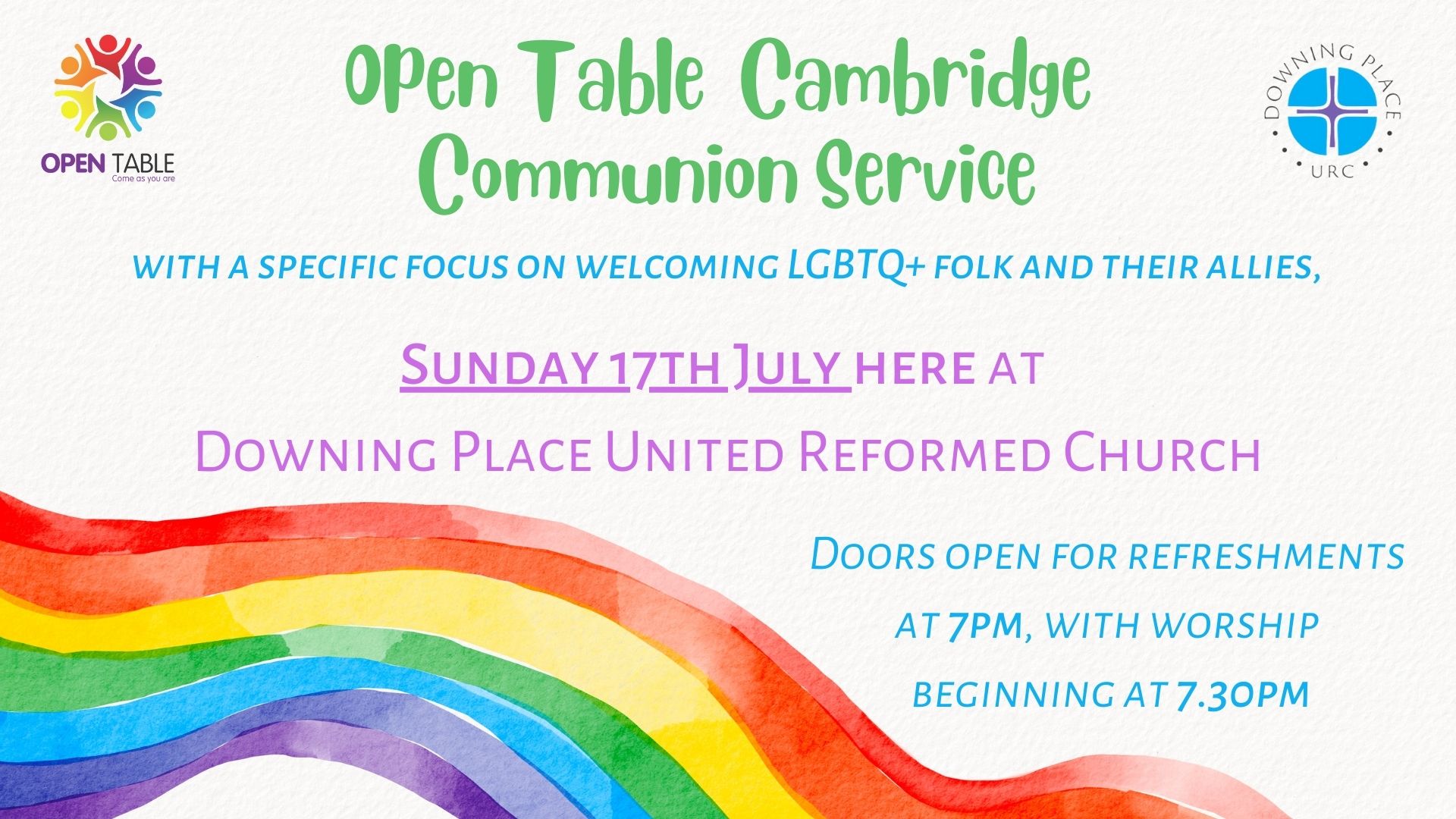 Sunday Worship for LGBTQ+ History Month
We hold a special service every year on the first Sunday in February for LGBTQ+ History month, which is be open to everyone and also livestreamed via our Youtube channel.  
This year's service was held on 6th February, and was led by members of Open Table Cambridge, with Revd Dr. Carla A. Grosch-Miller preaching and presiding at Holy Communion alongisde our minister Revd Nigel Uden. It was wonderful to have Sing Out Cambridge with us, and to have such a full church, with many others joining us via livestream.
You can watch the service at any time via the link to the right.
Link to a recording of the livestreamed service for LGBTQ+ History Month on Sunday 6 February 2022.
As well as our worship, we work on projects to help Downing Place United Reformed Church and the LGBTQ+ community surrounded one another with encouragement.
For LGBT History Month 2022 in February we made origami cranes, painted pebbles and coloured in drawings. The cranes hung in the Welcome Area of Downing Place throughout February, and the pebbles will soon decorate open spaces near the church.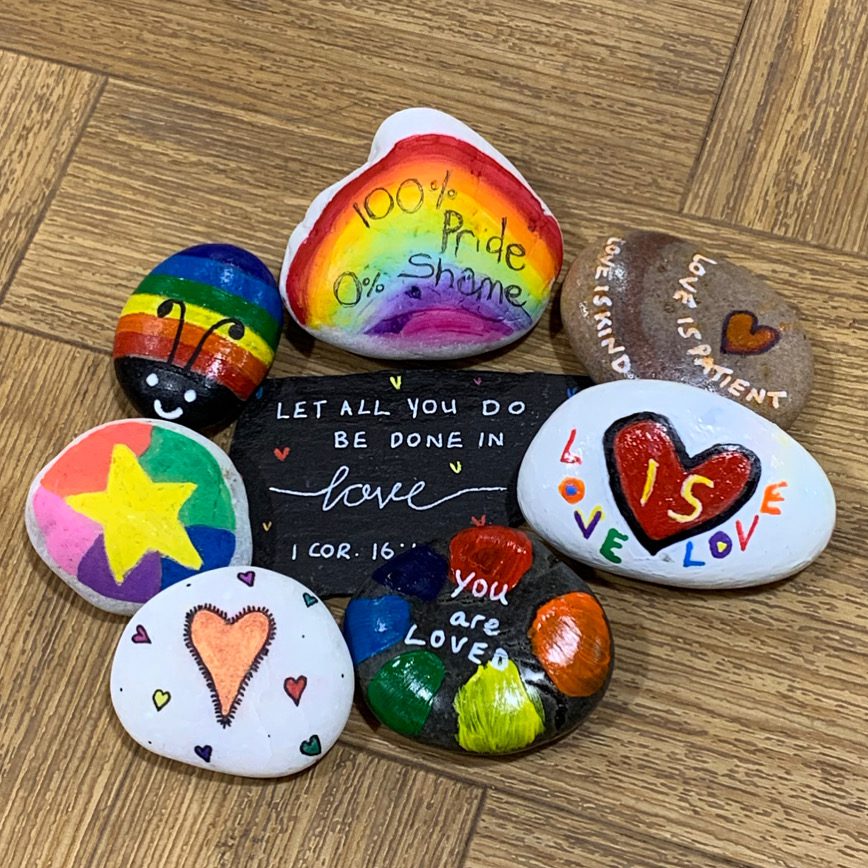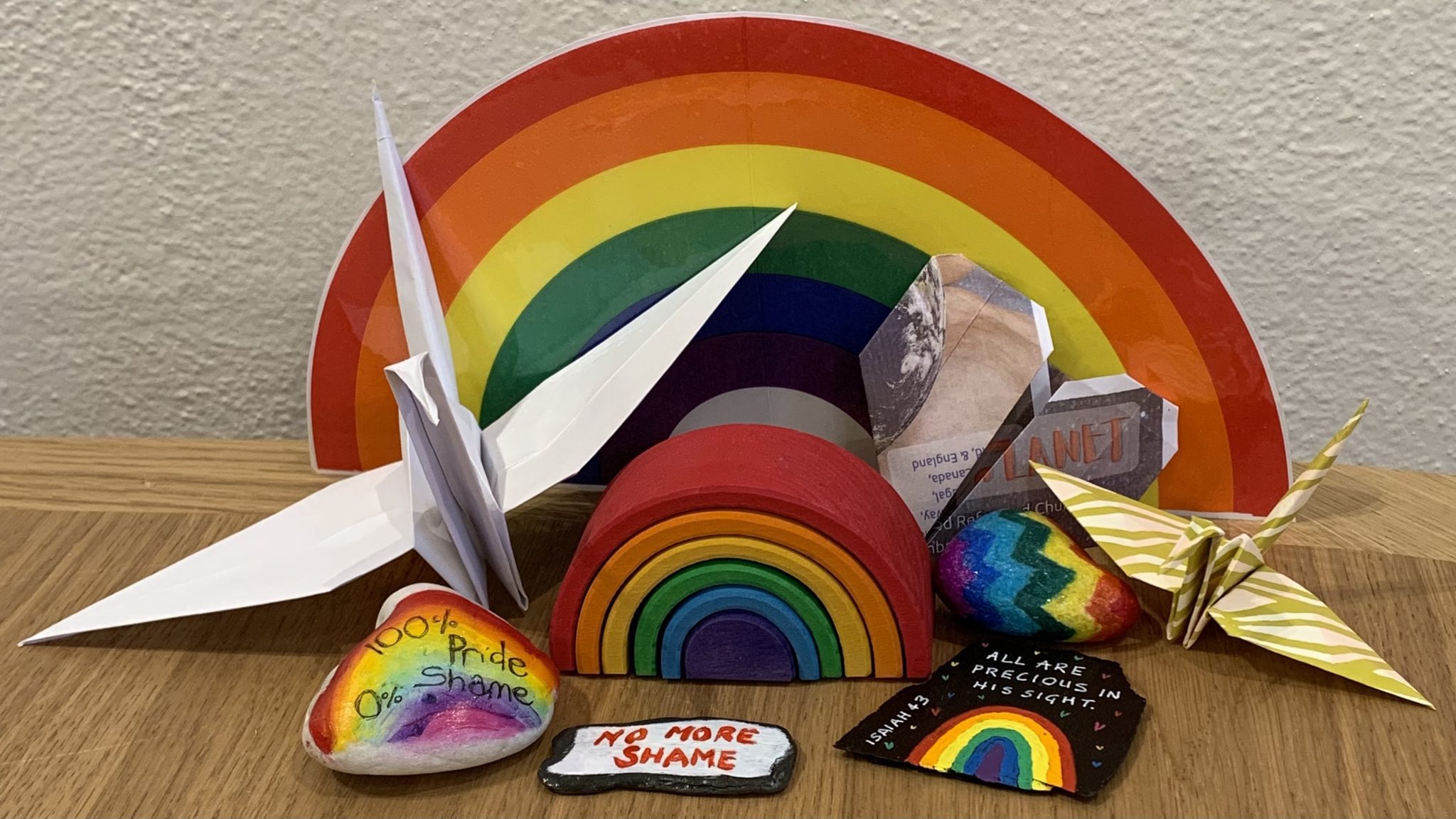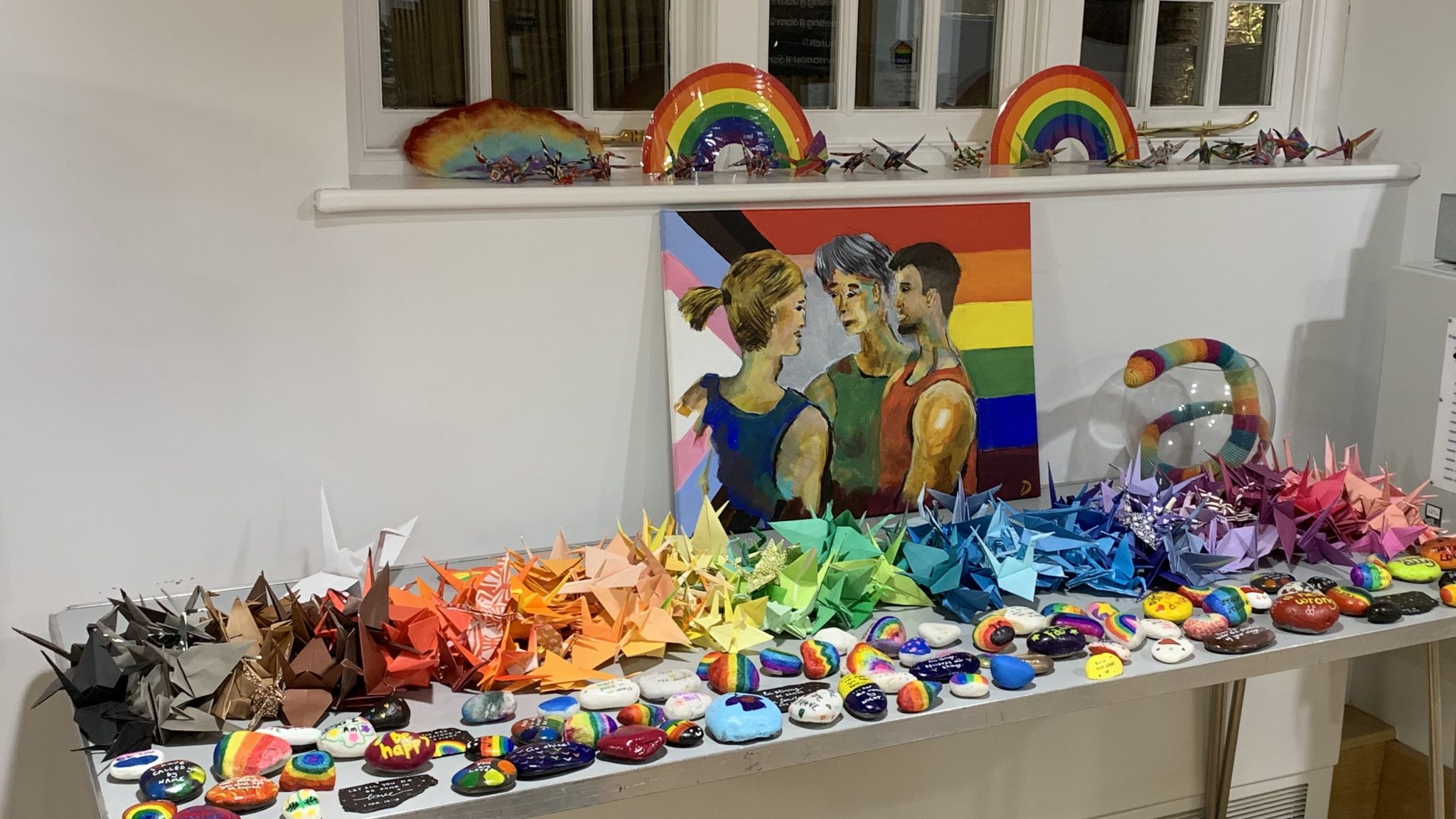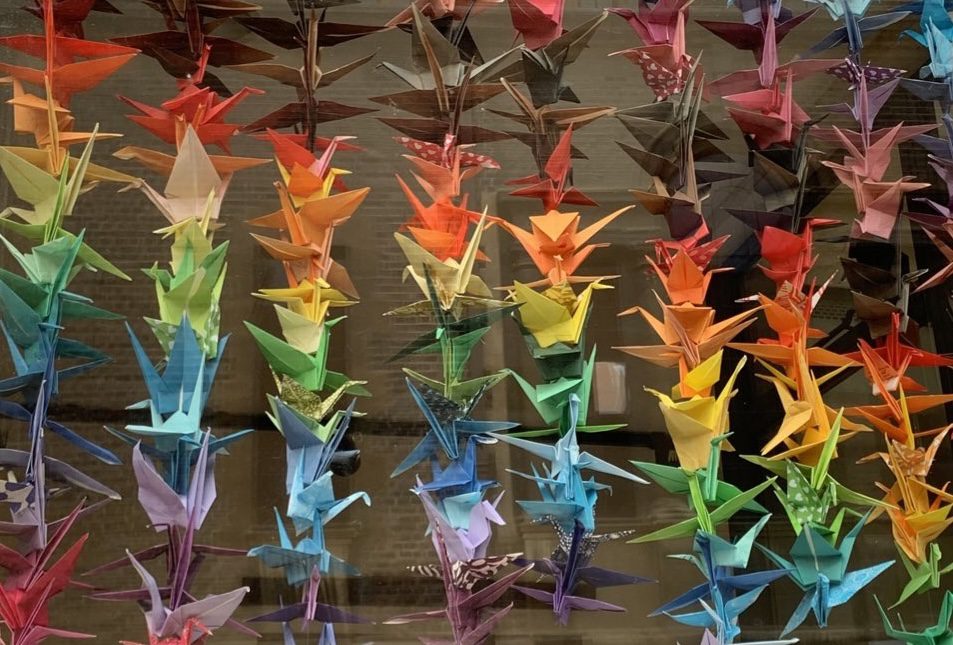 Keep an eye out for more projects throughout the year.
Around the first weekend of every month, we plan a social event of some kind.
Here some photographs from a recent craft evening, when the group tried their hands at crochet!