worship and performance at Downing Place
Each week, we publish Music Notes to accompany the music used during our worship.  Click on the icon to the right to read about the music for this coming Sunday.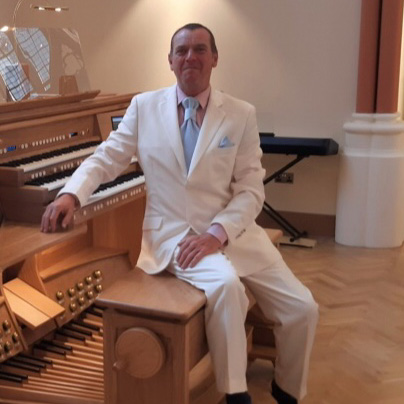 Original Compositions
Ian de Massini's setting of 'Away in a Manger' published by Stainer and Bell
ABOUT OUR ORGAN
Our organ is a digital organ, created especially for our church by the world-renowned company, Hauptwerk. It has the facility to reproduce the sound from more than one organ. Hauptwerk are unique in that they record each pipe of an organ three times over, in order to capture every nuance of that hand-made pipe: there are no sampled sounds at all.
Hauptwerk have installed a considerable variety of organs from around Europe, in order to bring to life a panoply of music, using organs for which the composers deliberately wrote their music. Our unique organ console, which we've had specially built for our church, contains a number of features not found on any other instrument, greatly facilitating the playing of such a wide variety of music.
Because this is the first Hauptwerk digital organ to be permanently installed in Cambridge, and because of the centrality of the church in the city, and the live-streaming and recording facilities of our new church, Hauptwerk have very generously installed no less than three, free additional organs for us to use. So now we have eleven organs, the earliest dating from 1745, and the most recent dating from 2008. We have organs from England, France, Switzerland, Germany, Austria, and the Netherlands.
We also thought it important to honour the previous organs that our two former churches owned. Accordingly, in honour of the organ that Henry Willis built for Emmanuel, we've installed the stunning 'Willis' organ in Hereford Cathedral, and in honour of the English, two-manual pipe organ that was built at the beginning of the 20th century for St Columba's, we've installed a beautiful two-manual English church organ dating from 1907.
In order to get to know all eleven of these instruments, we will be playing, initially very sparingly, on just one organ every week, changing organ each Sunday morning, so spanning eleven successive Sunday morning services, beginning on June 6th.
Downing Place organises free weekly lunchtime concerts every Wednesday at 1pm.
Demand from performers for slots is high, and we have a wonderful variety on offer, from piano, voice, brass, string quartets, organ, guitar, classical accordion and more.
Concerts last around 50 minutes and there is a retiring collection each week for our Monthly Special Cause.
Click below to visit our Lunchtime Concerts page and browse through the opportunities to hear superb music in our wonderful new space.
Here are some images and a short sequence from our recent concerts.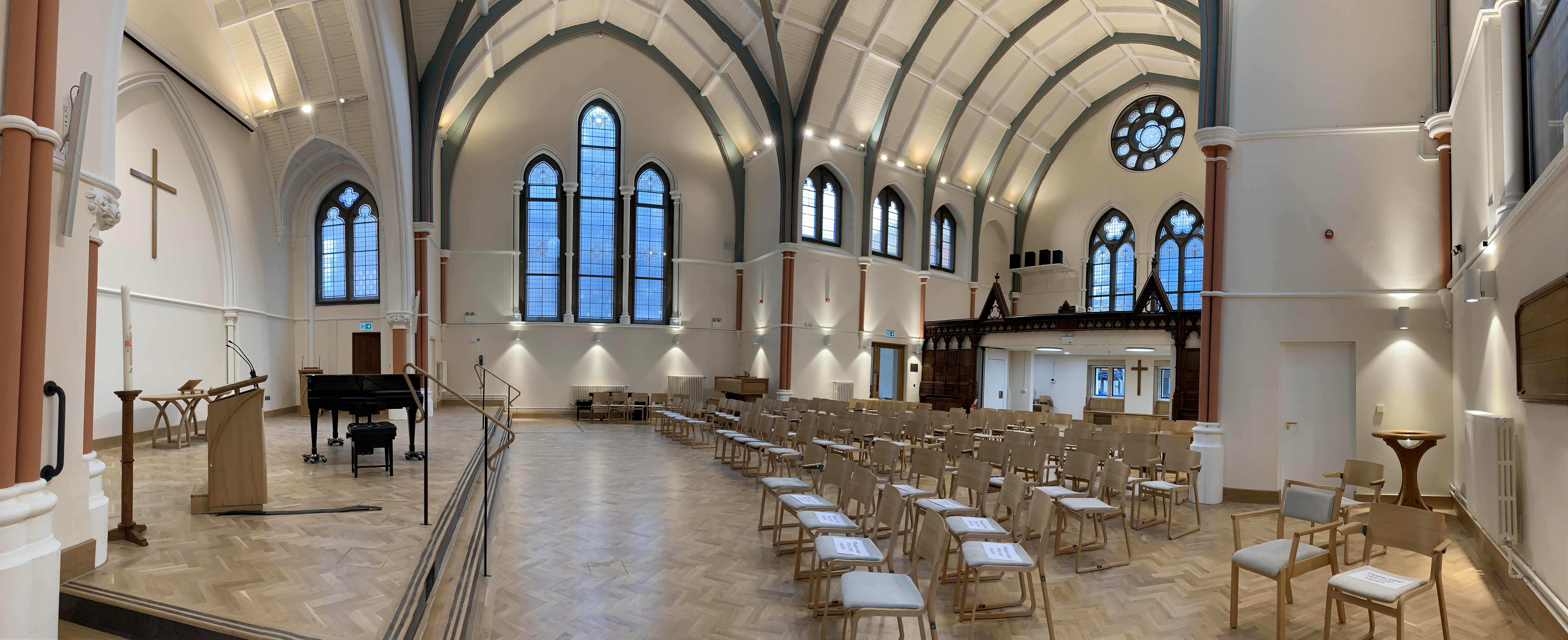 The church awaits its first concert audience.
A short sequence of images and music from Zacharias Brandman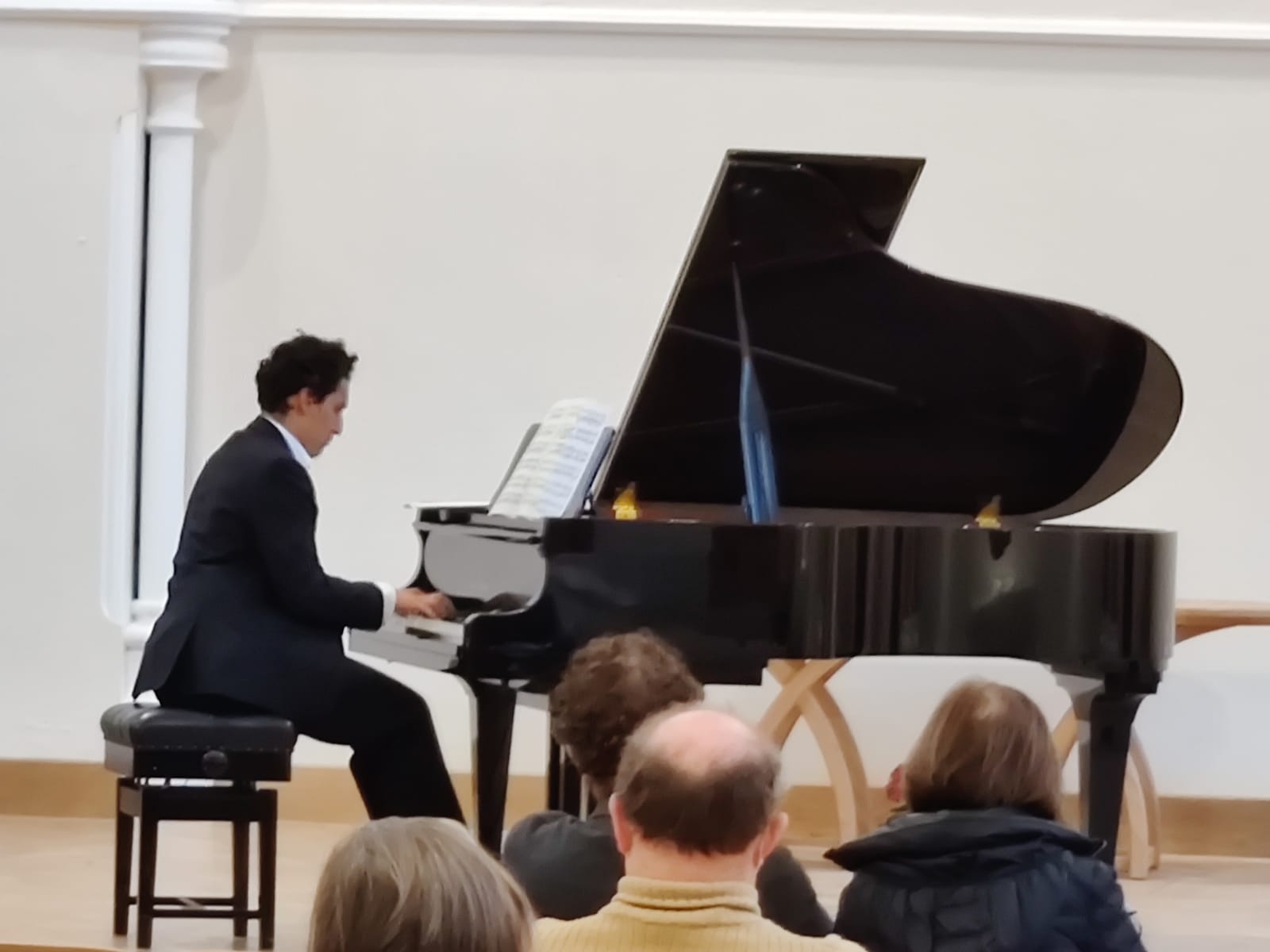 Zacharias Brandman on Wednesday 16 May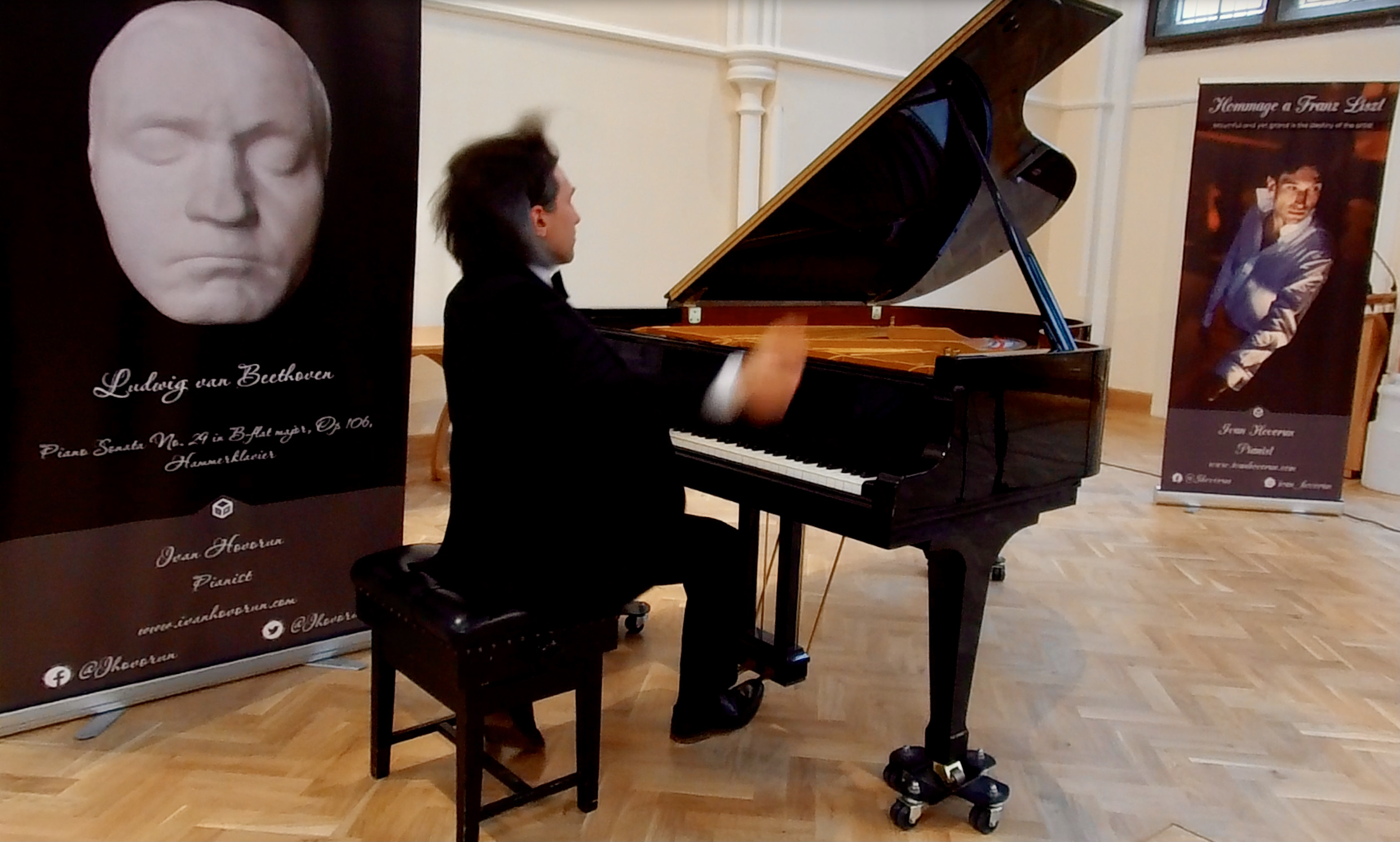 Ivan Hovorun performs Liszt and Beethoven on Wednesday 23 May.
When our online services began in the early days of the Covid-19 pandemic, our musicians stepped up to the challenge of presenting a great variety of musical pieces each week, to accompany worship and to provide a sensitive and inspiring background for our reflection.
Over time, we have acquired a 'library' of these pieces which deserve to be heard in their own right, featuring not only our own talented Directors of Music, Mark Dawes and Ian de Massini; but our minister Nigel Uden and other church members.
Click below to visit our gallery of pieces which have been performed by our own Downing Place musicians as part of our worship.