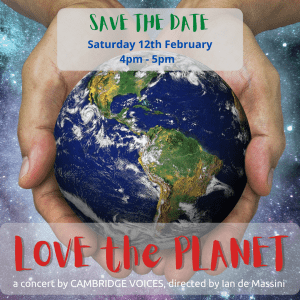 Are you looking for something to do on the afternoon of Saturday 12th February?
Look no further, Cambridge Voices have an exciting concert planned.
'Love the Planet', being held at Downing Place United Reformed Church at 4pm, will be suitable for all ages. Admission will be free.
Just two days before Valentines Day the programme will reflect on the love our planet needs from us due to the climate emergency we are facing, with music from Japan, Norway, Spain, Portugal, France, Canada, Scotland, and England. There will also be spoken contributions from Downing Place URC's Sustainability group.
More details will be available nearer the time, for now save the date!