Dear Friends
As we approach Christmas, we have services of worship planned which will provide the opportunity to connect with others in a safe yet close and mutually supportive manner.  We have pioneered Zoom services successfully over the past couple of months, which bring all the benefits of the safety of online worship together with the added advantage of being able to see  other members of the congregation as you join in worship!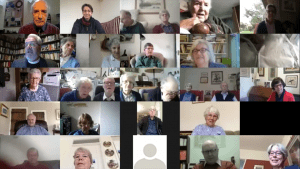 There will be Zoom services LIVE on both Sunday 20 December at 11am (a carol service led by Revd Nigel Uden and members of the congregation) and on Christmas Eve (a Midnight Communion service on Thursday 24 December at 11.30pm).
Please click here to register and receive the Zoom link for the Carol Service on 20 December at 11am.  This service will be followed by our usual 'Zoom Coffee' – make yourself a brew and stay online; we chat together and then break into smaller groups to enable us to chat more easily.
Please click here to register and receive the Zoom link for the Midnight Communion Service on Christmas Eve at 11.30pm
The links will work at any time, even after the services have started, and can be used on multiple occasions – so if you mislay the link don't worry, you can get it again!
In addition to this, recorded services of worship will be available on our Youtube Channel for Christmas Day Worship and for Sunday 24 December – click here to view a list of our recorded services.
We hope to see you at some of our Christmas services, and that they will bring you cheer as we celebrate the coming of the light of Christ into the darkness of our world.